Solitaire Download
"... A lot of solitaire games that will
definitely be new to you..."
Do you like to play solitaire? Are you tired of the same old boring games?
BVS Solitaire Collection for Windows XP/Vista/7/8/10 offers a refreshing and challenging twist to an old-time favorite pastime.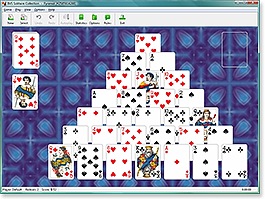 This unique collection contains 510 multi-featured, very different solitaire card games to play. You'll be able to learn solitaires not found elsewhere!
The interface can be changed to suit your personal color and background preferences, as well as your choice of card backs.
Unique "You Are Stuck" feature lets you know if there are no more legal moves to be made.
You can view the history of your played games very easily with the many statistical and scoring screens so you'll be able to keep track of your performance and progress. And you can publish your personal statistics on the BVS Solitaire Collection web site and see where you rank in the top scores list.

Solitaire Download - download fully functional trial copy
---
Register Now!- (US $19.95)
Register BVS Solitaire Collection now with your credit card using secure order form. You will receive a registration code within a few minutes. Plus - when you register, you will also get BVS Solitaire Plus Pack that adds additional card sets and greatly enhances the number of excellent backgrounds available in background selection dialog.
BVS Solitaire Collection
free 30-day trial, 7.5MB